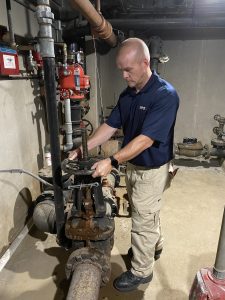 The easiest way to make your life safety inspections a breeze? Consolidate your inspections down to one provider-like IPS! A one-stop-shop means less vendors to track in your business systems and less points of contact to maintain. Plus, when you sign an inspection agreement with IPS, we keep track of all your due dates and reach out when it is time to schedule the work.
No matter who your inspection provider is, below are some things to keep in mind when it is time for an inspection at your facility:
Be sure to notify all building occupants in advance that an inspection is taking place. This is particularly true for horn/speaker strobe testing and any instances were inspection crews have to enter secure areas (i.e. residential units, server rooms, etc.)
Keep copies of your inspection reports in a safe place. Document storage boxes are required on new fire alarm panels, but if you have an older system, you may want to add one anyway. This will help you stay organized by having all system info in one central location. Alternately, ask your inspection provider if they offer electronic reporting, so you can store your reports in the cloud and access them on-demand.
If you have system components that fail your inspection, take care of repairs in a timely fashion. This keeps your people and property protected and keeps you in good graces with the fire marshal.
Different systems have different inspection frequency requirements. Below is a general guideline, but requirements may vary based on your state's fire code, your insurance, or the AHJ.
Fire Alarm Systems: Annual Inspection
Sprinkler Systems: Quarterly + 5-year Internal Pipe Investigation and 5-Year Standpipe Flow Test
Emergency Exit Lights: Monthly Visual + Annual Inspection
Fire Pump: Weekly/Monthly Churn Test + Annual Flow Test
Suppression Systems: Semi-annual
Extinguishers: Monthly Visual + Annual, then 6-Year/12-Year Maintenance (Dry Chemical) and 5-Year/10-Year Maintenance (CO2).
Backflows: Quarterly Exercise + Annual Inspection
If you are interested in learning more, contact us today and we will set up a review of your inspection needs.