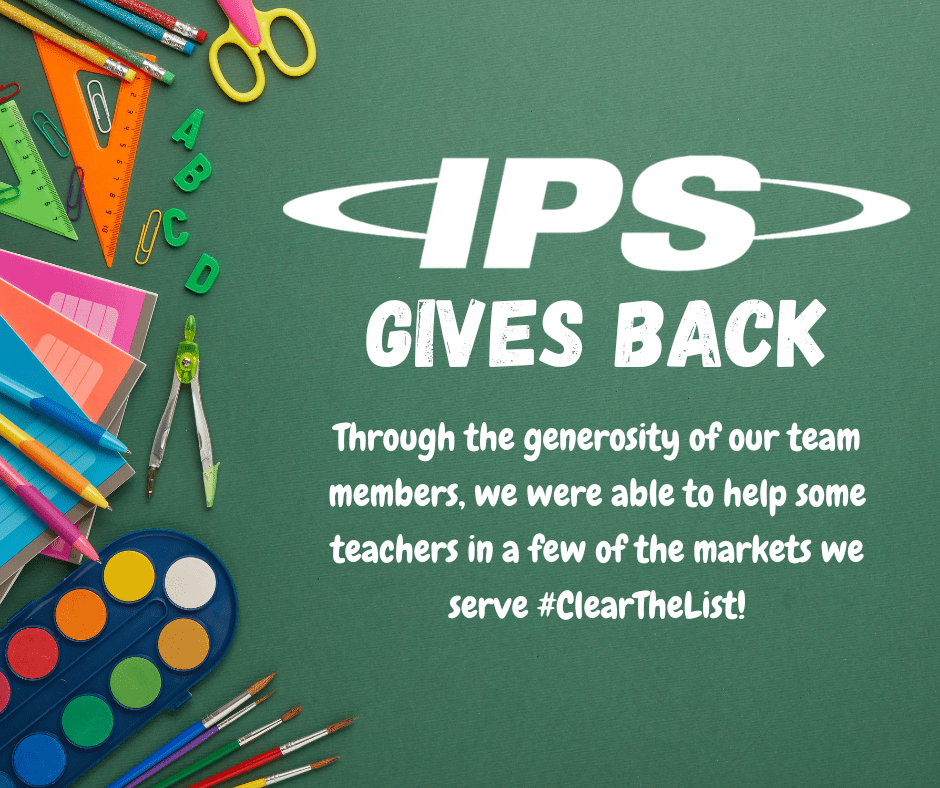 A few times each year, our IPS team members like to give back to the community. In September of 2023, we decided to help out some well-deserving teachers in a few of the markets we serve. #ClearTheList is a nation-wide initiative that has gained popularity on social media. The idea is to gift items off wish lists to teachers to help them stock their classrooms full of fun learning resources. We donated to a mix of teachers from the extended IPS family, customer sites, and also to some complete strangers. This year, we were able to help educators at the following schools:
Grant's Lick Elementary in Campbell County, KY
John G. Carlisle Elementary in Covington, KY
St. Bernard Elementary in Cincinnati, OH
Hopewell Junior School in West Chester, OH
Ridgeway Elementary in Hamilton, OH
Eastern Local Elementary in Beaver, OH
Chenoweth Elementary in Louisville, KY
Breckinridge Elementary in Lexington, KY
Watterson Elementary in Louisville, KY
Ashland Elementary in Lexington, KY
Hapeville Elementary in Hapeville, GA (Atlanta)
Lowell Elementary in Seattle, WA
Rising Star Elementary in Seattle, WA
Knowing we are helping teachers fill their classrooms without them having to reach into their own pocketbooks is great, but the fun photos and drawings from the kids have made this opportunity even more fulfilling. We are already looking forward this initiative to next year!